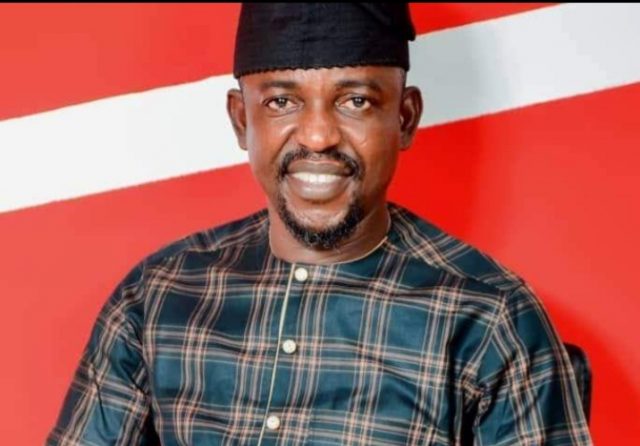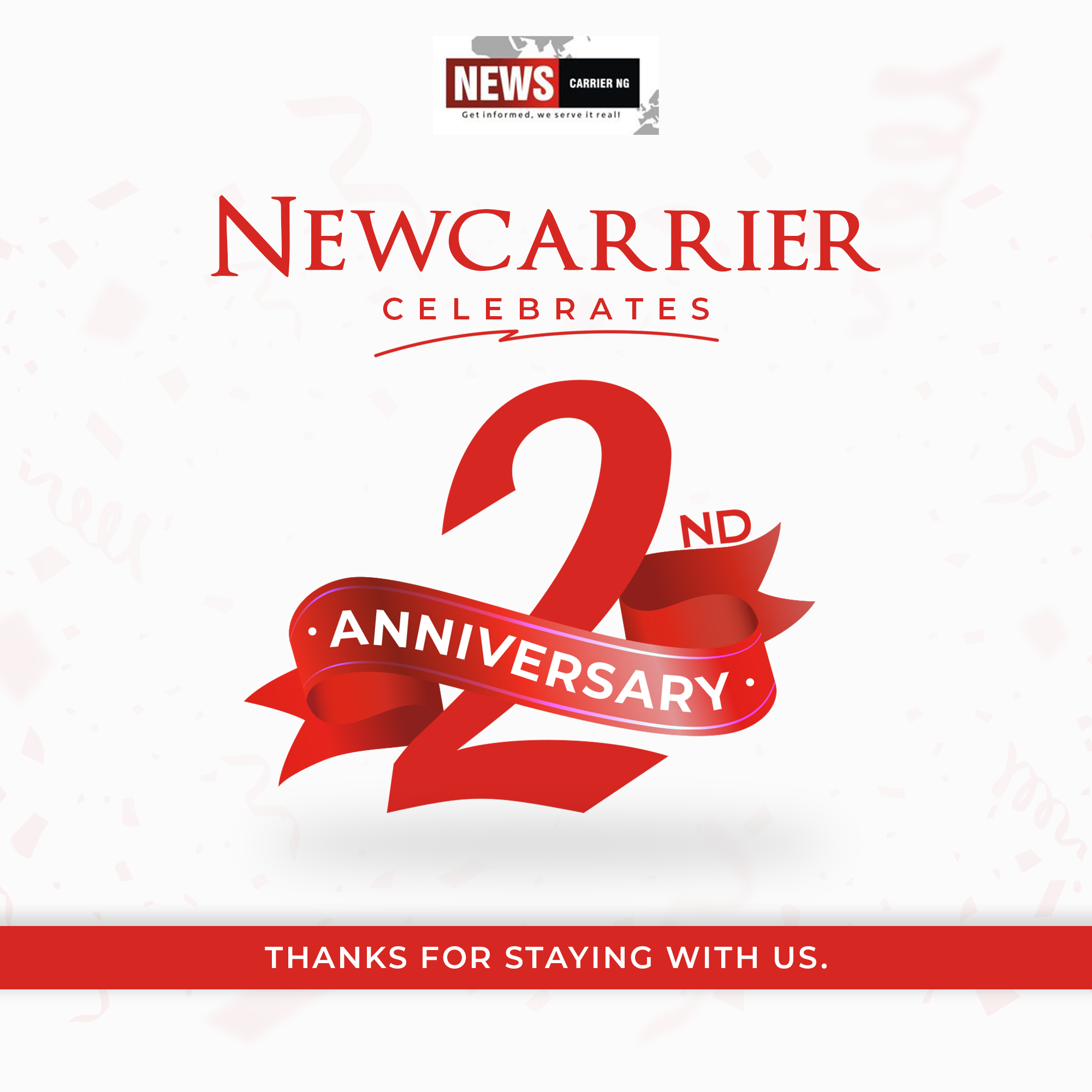 Nigerians are berating Engr. Akeem Olatunji, the Oyo State Publicity Secretary of the ruling People's Democratic Party (PDP) for justifying incessant killings, maiming, armed-robberies, kidnappings, raping and other social vices being witnessed since the assumption of Engr. Seyi Makinde as Governor of the state.
The News Carrier NG understands that Engr. Olatunji is adjudged as the most controversial and most inconsistent image-maker of PDP in recent time.
The News Carrier NG, in February 2021, reported how Governor Makinde exited PDP WhatsApp platform in anger, after Engr. Akeem Olatunji challenged him on intensifying insecurity in the state.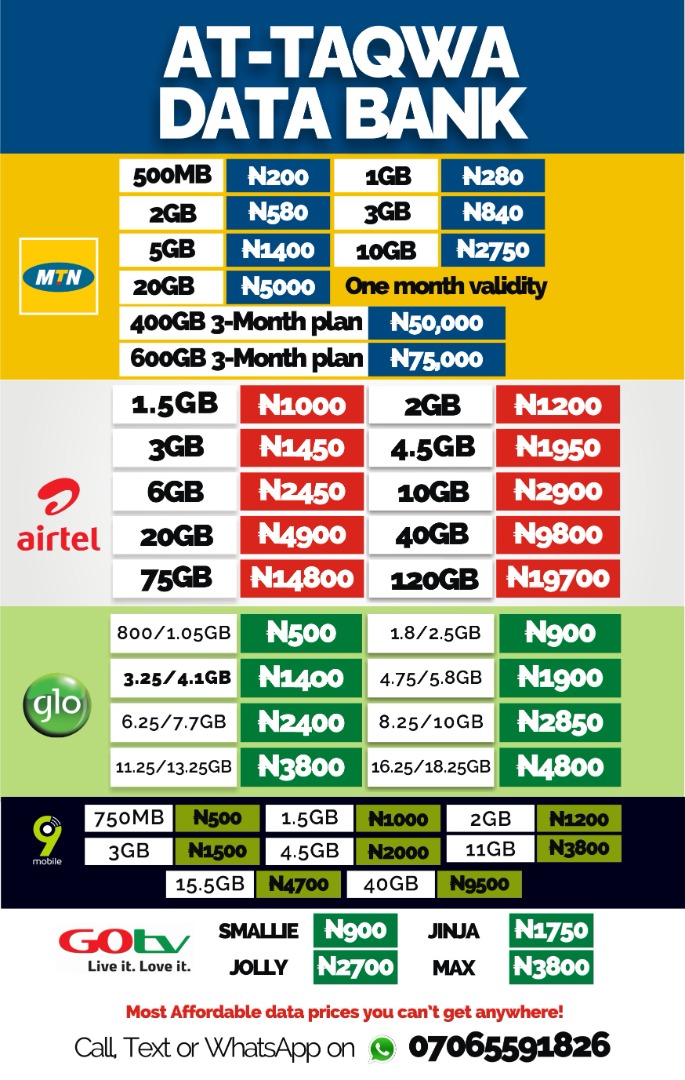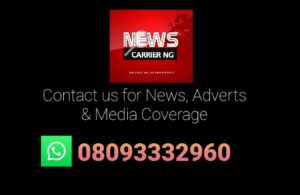 Before the exit of Engr. Makinde, Engr. Olatunji had earlier posted a video of an attack by suspected Fulani herdsmen on the people of Ayete, on the WhatsApp group.
The video was calling on the governor to take urgent steps to save the people of Ayete from incessant attacks by Fulani herdsmen but the governor became angry.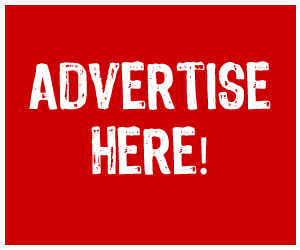 Olatunji had commented on the video, saying, "This video has gone viral but the authority needs to confirm the claim. It's very urgent to address the message…"
Reacting to the statement made by Olatunji, Makinde at exactly 10:07 pm, said, "Every time some idiots makes (sic) a video,  the government must respond… I don't get it really… you need mature people to make meaningful contributions on your platform."
The governor also went on to react to another story regarding allegations of violence at the ongoing All Progressives Congress (APC) membership revalidation/registration. Olatunji had also said, "Several injured as APC members fight over registration in Oyo State." Governor Makinde asked; "What is the relevance of this on the PDP official platform?" He then exited the platform.
The incident, many thought could have cost Engr. Olatunji his job but he survived it. The News Carrier NG understands that since the February 2021 incident, Engr. Akeem Olatunji has turned to yes-man. Everything that Engr. Olatunji says or writes points to the fact that everything that happens under Governor Makinde is okay.
The latest eye-service reaction from the Oyo State PDP PRO was his facebook post of June 18 2021, justifying the gruesome killings of two citizens and maiming of several others at Iwo Road area of Oyo State by Governor Makinde's appointees led by Mukaila Lamidi Auxiliary.
The post reads: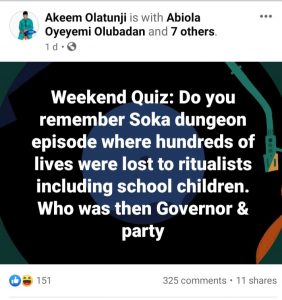 Engr. Olatunji, in the comment section of the post, wrote "Sveral people were killed during Ajimobi's tenure both reported and unreported, may this issue of insecurities bedeviling our nation come to an end by God's grace…."
The post attracted strong condemnations from Nigerians as many called him unprintable names.
Some of the reactions read:
Hammed Oyelekan Okikiola Transcend:
And Ajimobi was the Owner of Soka? Or you want to tell us the Owners of Soka were Ajimobi's appointees ? What is the nexus between the Appointee (s) of Seyi Makinde allegedly killing people in broad daylight and Ajimobi's Government unravelling Soka?  Nkán tii n se ẹyin people yìí Walahi. Ẹ ti wa frustrated.
Aderemi Adelani Olufemi
You're as kindergarten as your principal, how comparable are that incident with what is happening now.
Taiwo Olatunji Charity:
Does that mean we should keep living in the past? Is this a good time to post this? What is the point of this post? I'm a big fan of the Governor but all these unnecessary gang wars need to stop and the only man that should be blamed for the security problem is the number 1 citizen in the State. Y'all are just making the governor look bad with this type of comparison.
I just don't want to believe we are comparing death across government tenures and I don't want to believe Mr. Governor will stoop too low to support such a message.
APC Loudspeaker
Soka had been existing before the tenure of APC and  instead to find solutions to insecurity u are looking for something to cover ur mess. Have this in mind 4+0=4 that's what ur party deserve.
Dahood Olanrewaju
What is this guy smoking? The humanness in you is fast eroding.
Abdullahi Tiamiyu
Akeem Olatunji Irotunji… o sese ye mi nii…
I now know d major reason y the Governor exited the WhatsApp grp and call u pple all sort of names
Adebisi Olanreaju:
The existence of the place predated his administration years,his boldness and bravery brings about the discovery and put an end to its existence.Let us be realistic and focused..
Gidado Nurudeen O
Can you imagine this shameless PRO that defending his fake boss.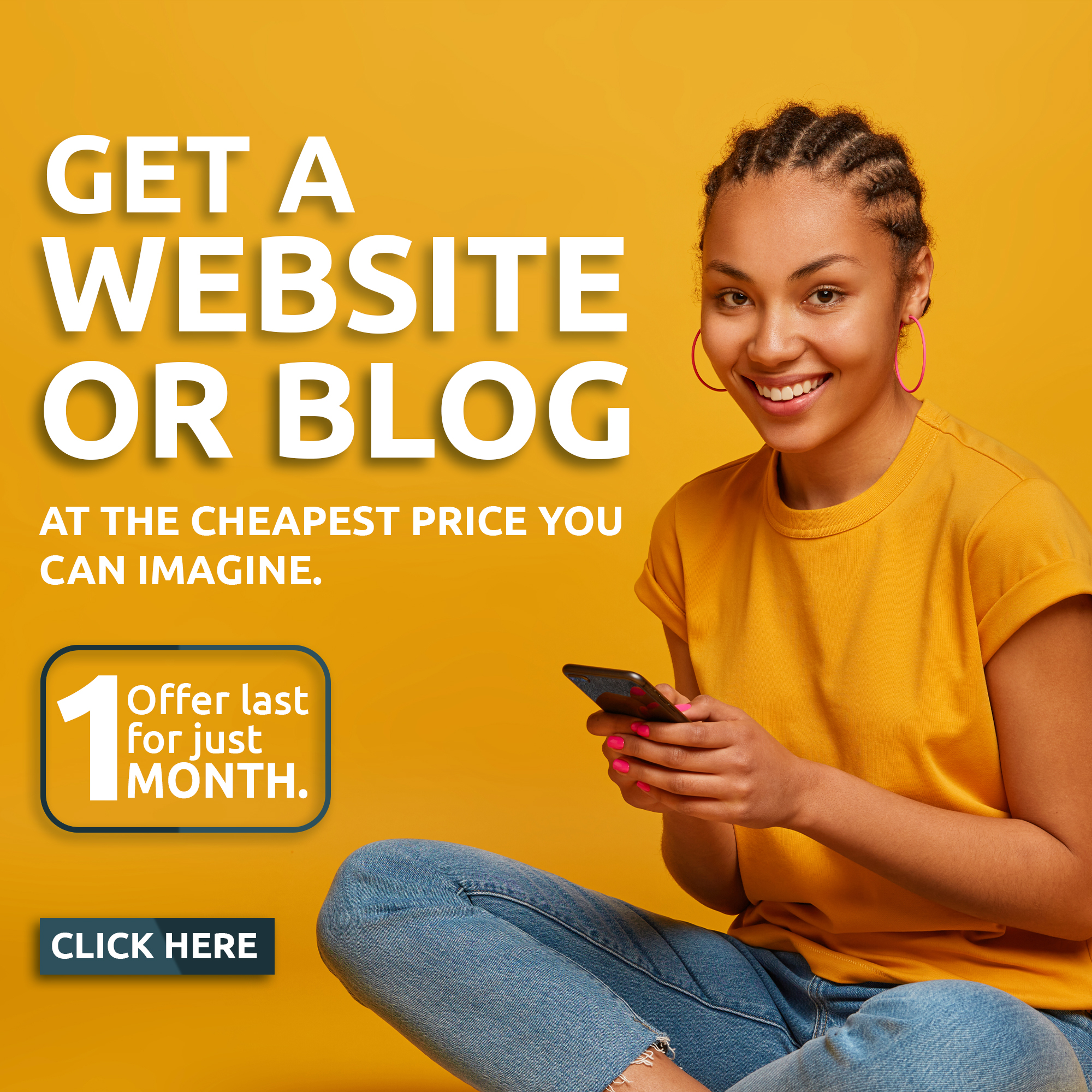 Oladeji Maven Ayo
Alaye you don't have a shame, imagine comparing the insecurity in the state. I think you have gone beyond this but you are still on feeding bottle
Alabi Tunji Michael:
You forgot so soon how your bigwigs had been using the place ? Special thanks to Ajimobi for being that bold to fish out the dungeon. Your govt can never have such bravery to do such… Olatunji is a disgrace… A toddler won't bring this on board…. Too shallow minded….
Hon Oladeji Tosin
So instead of of building citizen's faith in the government of Seyi Makinde, na to normalise ritual activities you see as response? Please all these reference to killing of Agugu DPO, and now  Soka is a shameful low, and highly ignoble.
Oga kindly take a course in Public relation please. It is obvious the knowledge that  brought you into that office is not enough to efficiently run that office.
Kindly go learn image rendering , image building and social image salvage, etc. A reference to Soka to excuse Present insecurities in Oyo state is too tasteless and classless.
Or better still, recruit PR experts into a think-tank team to always advise and  structure your public communications. You can find enough in tge polytechnic of Ibadan, Lead University,  University of Ibadan and media Houses in Ibadan.
Abdullahi Adekunle Adio
I'm highy disappointed in you and it is so embarrassing to have you as an alumni of Lautech. Must you justify the current insecurity in the state with what has happened many years back all in the name of politics.. Many are educated but only few are intelligent.
Abioye Babatunde Adeyemi
Instead of you to look for a better way forward to end all this trash in Oyo state you are giving unnecessary excuse Soka you mentioned on your post was detected during Ajimobi regime it has been dia before Ajimobi came on board.
Yomi Pius
Akeem Olatunji you are not serious one bit…. Am highly disappointed in this your wicked utterances… So you are justifying killings and insecurity in the land…. You just lost value before Oyo state indigene …. When you allow a murderous character in your government in Auxillary … What do you expect…. Gang war everywhere and all you could say is this…. You are a bunch of disappointment….. I gave up on your barbaric reasoning….
Owolabi Rilwan
Instead of you to tell the Governor to be more proactive on Security, you keep justifying the present insecurity with SOKA incidence. I was robbed some days a go at BASHORUN market day light and those guys were with AK-47. Continue till it knock at your door
Crown Prince Khalid
How can we blame a government that discovered a dungeon at Soka? Soka was in existence before the emergence of Late Gov. Ajimobi. HOW can we blame his government for that? How can we compare madness and heartless in this present government with Ajimobi's? All of us are not foolishly foolish…..
Ademola Adegbenro
O mo wa ga ooo.
Emin wa naa le nfi nta GANGUS BAYI? Instead of you people to forget about past regime & find a way to protect our lives and our properties while we can not move freely in ibadan now,,,who born that person?
Oh God have mercy
Oselu o ja a gbon mo oo.
Niyi Adewoyin
Engr Akeem Olatunji ,this post is better deleted than making unnecessary defense, u are doing ur boss more harm than good with this kind of post, i'd rather advise u to be posting about works ur boss has done  and keep praying for a better Oyo state
Oyepeju Kazeem
Walai uncle akeem olatunji tipada nih mental health issue ooo.how can a mentally fit and physiological okay person would be fighting a dead Man .egbon high service yinpo……Lori kini setoripe enwa ticket federal rep yi nah.its only God's that do things now.
Ogbo Lawrence;
Delete this post egbon… Seriously I always say this let ur key pad rest if you dont have meaningful topic to post..
Abidemi Owolabi
I am highly disappointed, instead of you to advised the Audio Governor to be more proactive in securing the state.
Folaranmi Olawale Martins
I doubt it if you are truly a certified engineer, your composition of English is as poor as your look and above that must you measure governance with who kills how many at what time ? May Nigeria never have your kind of person in our political terrain anymore, so so unfortunate that you have sold your hard earned inheritance for peanut.