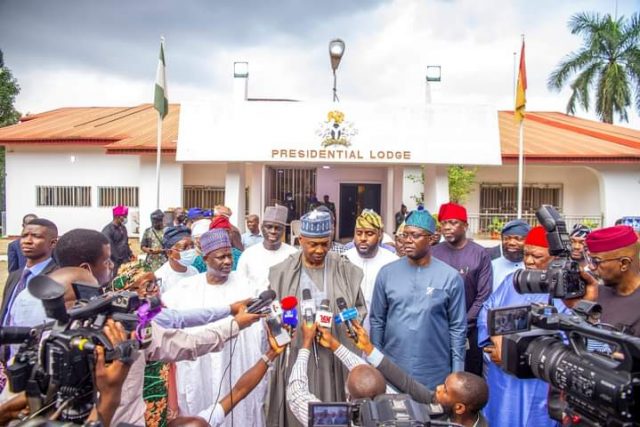 A Chieftain of People's Democratic Party (PDP) in Oyo state, who is also one of the party aggrieved leaders, Alhaji Bisi Olopoeyan has said he boycotted Tuesday reconciliation meeting with Governor Seyi Makinde in Government House due to security reasons.
According to Olopoeyan, "I am very happy with the PDP Reconciliation and Strategy Committee led by former Senate President, Dr Abubakar Bukola Saraki. I was in attendance at a meeting held at Carton Gate Hotel, Idi-Ape in Ibadan but failed to join elaborate meeting arranged at government House with governor Seyi Makinde because the governor might have set a trap for me like he did in Oshogbo, during the Southwest PDP Zonal congress"
" I failed to attend the second meeting scheduled for government house because I didn't trust governor Makinde and my life is very important to me, family and loyalists".
"I had experienced series of threats to my life since after 2019 general elections, which governor Makinde heard about each of the threats but never bothered to take a step to protect me, mostly before our misunderstanding. It was this same governor Makinde that brought Mukaila Auxiliary to Osogbo to kill me when sighted during the zonal congress, the script acted before and during the Zonal congress by auxiliary was written by governor Makinde and his allies. Days ago, One of his council chairmen led security men and hoodlums to survey my house at late hour, thanks to CCTV camera that revealed their movements. So, now sitting down with governor Makinde in his comfort zone is very risky for me, he can do and undo with my life during or after the meeting".
When Olopoeyan was asked if he is ready to accept the resolution made at the meeting, as the governor has said that he would address all grievances by reaching out to every aggrieved party within a short time, with a view to making the party more formidable and well-positioned for victories in future elections, Olopoeyan said, he respect ex Kwara governor, Bukola Saraki and members of his committee so much and he is ready to abide by what they resolved to and ask him and other aggrieved leaders to do but it is very difficult to take governor Makinde by his words".
" I don't have any issue with Dr. Bukola Saraki and his committee member and their reconciliation move, they are our party national leaders, they are very capable to provide lasting solutions to any crisis within the party but can't trust governor Seyi for anything, he talk out of both sides of his mouth, he has being promising that he is going to turn over a new leaf, but not yet, still kept to his unacceptable old ways, so, it will be hard for anyone to take him at his word again.
Olopoeyan added that he is not interested in any goodies from the state governor anymore as things given by him are a Greek gift.
" Yes, I heard he promise before the national committee today ( Tuesday) that he will amend things but for me, I don't want anything from him again, governor Makinde has never rendered help for me or my loyalists with an eyes closed. Anything he did for me, he will used an undercover to monitor it, when he appointed some of people close to me, he and his allies started to mount pressure on each of them to stop being loyal to me and told them that if they continue associating with me, he would sack them and he did sack those that refused to cut their relationship with me, so what else he can't do to have his way on me again ? Olopoeyan asked.
When asked about his camp preparation for the upcoming Ward, local and state congresses of the party in the state, he said the party leaders are on top of it and it will be an hitch-free congresses if governor Seyi Makinde didn't use Auxiliary to disrupt the peace process and harass the delegates as he did during the zonal congress in Osogbo.
"By now if governor Makinde is still thinking that he will assign Auxiliary and his boys to cause commotion and suppress the party delegates in exercising their right like Oshogbo they did in Oshogbo, that means he had already worked against his re-election bid.