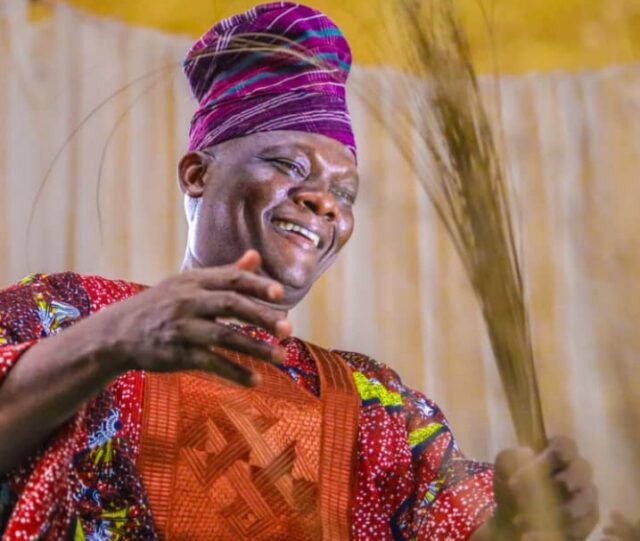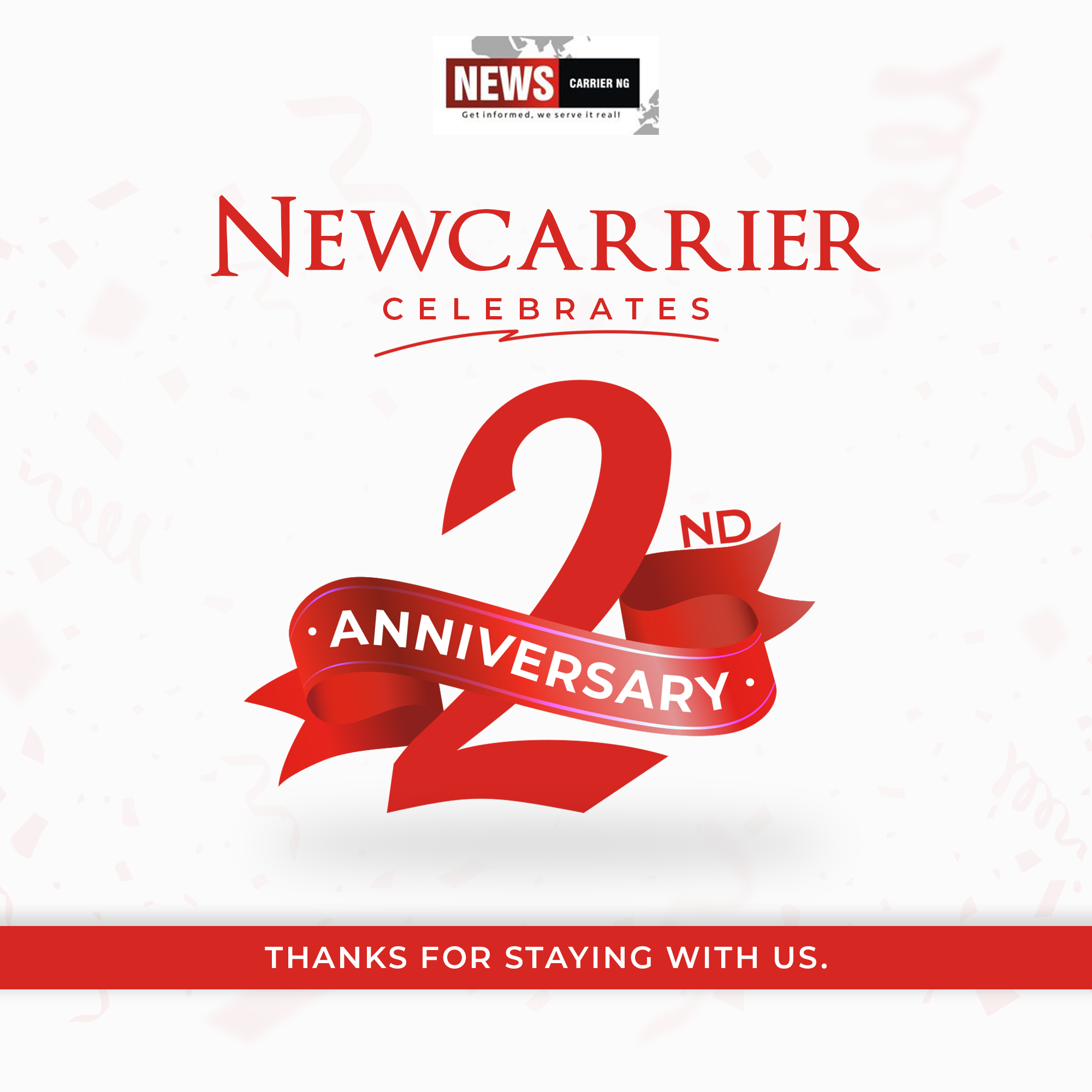 The Chairman Senate Committee on Local Content and lawmaker representing Oyo Central Senatorial District, Senator Teslim Folarin has told mischief makers in his party, the All Progressives Congress (APC) and the ruling People's Democratic Party (PDP) to fabricate new lies against him, saying he has no reason to rejoin his former party.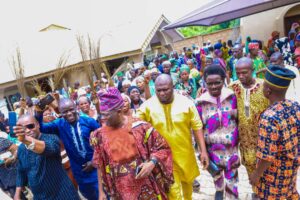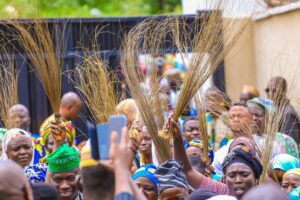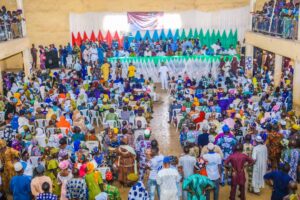 Senator Folarin made the categorical statement while interacting with APC executives and stakeholders from Iseyin and Itesiwaju LGAs on Wednesday. Former Commissioner Dauda Azuzu, former Isaac Omodewu, Hon. Yinka Taiwo, former executive chairman Engr. Yekeen Abolade, former executive chairman Alhaji Shina Khalid, Iseyin APC Chairman, Hon. Ogunleke Anthony, Alhaji Musbau Eyinade Alobo, Hon. Fatai Salaam, Alhaja Dauda Wasilat and Hon. Kunle Teslim led all party executives, elders and stakeholders to receive the Oyo Central Senator.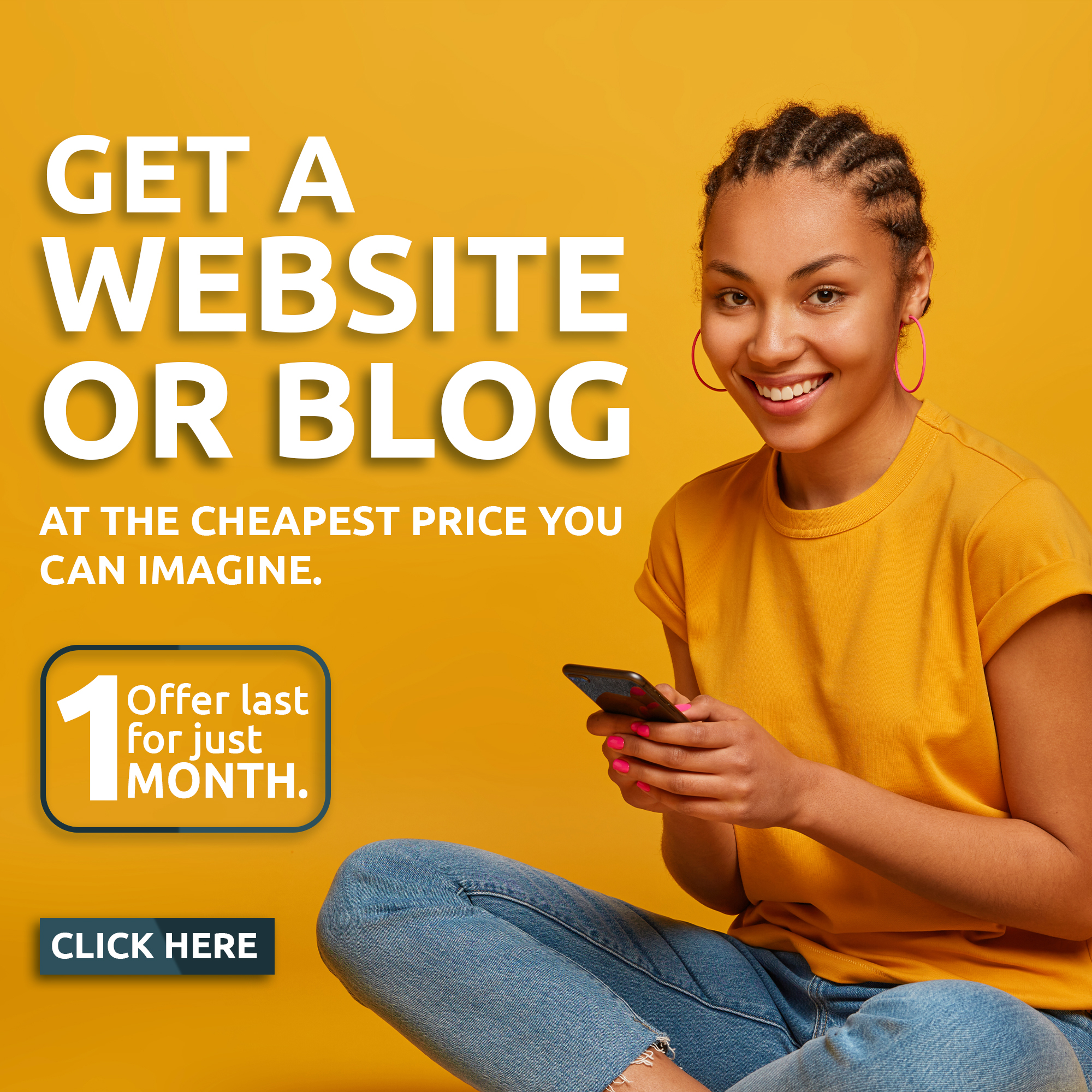 The Ibadan-born politician who paid an homage to the Aseyin of Iseyin, Oba (Dr.) Abdulganiyu Ologunebi, was well received into the ancient town of Iseyin with fanfare.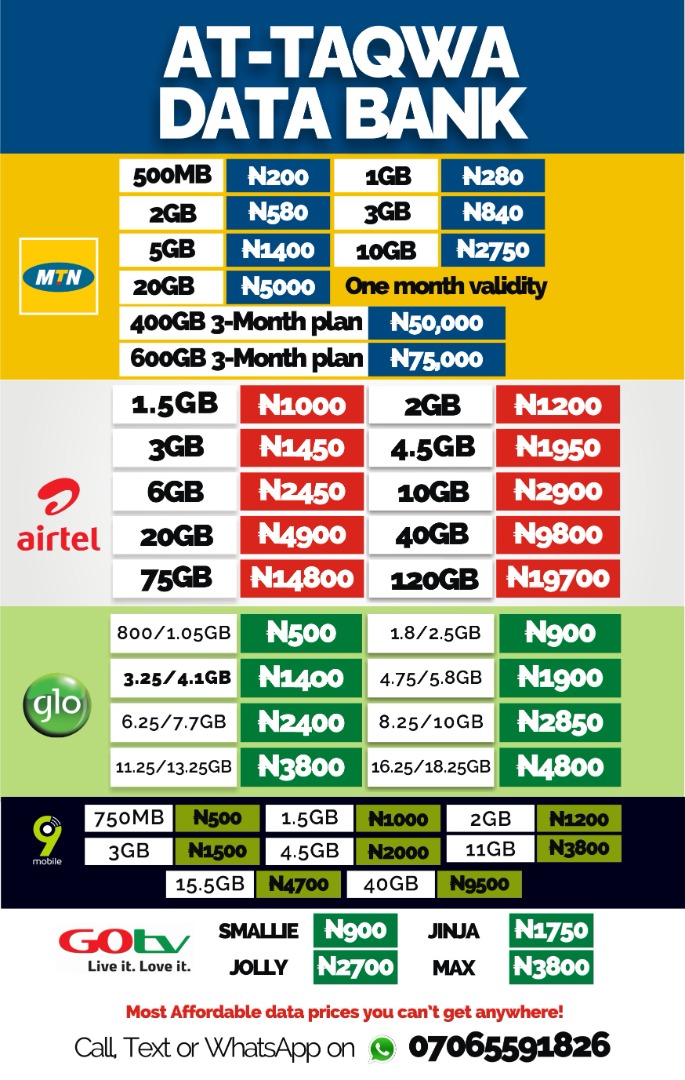 Folarin who is on tour to the agrarian zone of the state to preach peace and harmony among party leaders and members ahead of the party congresses in Oyo APC, said PDP belongs to his past.

"There is no denying the fact that I started my partisan politics in PDP but joined a progressive family in 2017. My political mentor, Late High Chief Lamidi Adelabu was a born-and-bred progressive but later decamped to PDP".
"Those discriminating against me in APC are only jittery because I am a fully-baked politician. They're jittery because Baba Adedibu injected me with both progressive and conservative ideologies".

"Unfortunately for mischievous people within APC and the ruling PDP, APC is an hybrid political party. All political school of thoughts have stake in APC. No legacy party is superior to another. Is President Muhammadu Buhari, a conservative or progressive? The Vice President Femi Osinbajo is what? The President of the Nigerian Senate? The Speaker Femi Gbajabiamila? Former Governor Rochas Okorocha? Senator Ibikunle Amosun? Governor Yahaya Bello? Senator Ibrahim Shakarau? Minister Ogbonaya Onu? We will not leave here if I continue to mention names of APC leaders who are from the legacy parties: ACN, CPC, PDP, ANPP, LP and APGA".
"Late Governor Abiola Ajimobi, may his soul rest in peace, was my cousin, leader and benefactor. He was at one time a progressive, and another time a conservative. He died as a progressive. May Allah forgive his shortcomings and grant him Aljana Fridauz. I, Oloye Teslim Kolawole Folarin is proud to be a member of APC and I'll passionately strive to unite the party. I won't join issues with divisive elements to destabilise the house (APC) because of ambition"
"I am bona-fide member and senator of APC. There is nothing PDP will offer me that I cannot achieve in APC by the Grace of God and the supports of the genuine and progressive-minded members of our great party. And to PDP, you will not only remain the main opposition party at the federal level but also handover to APC in Oyo State come 2023".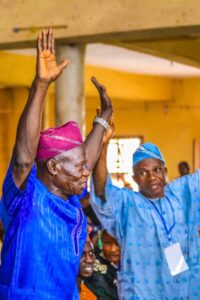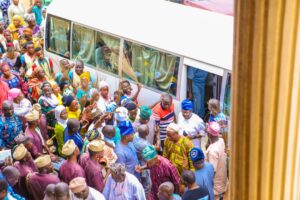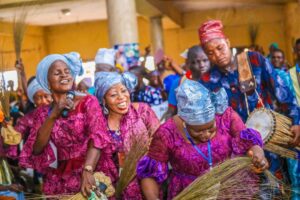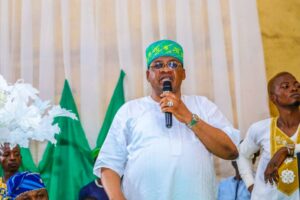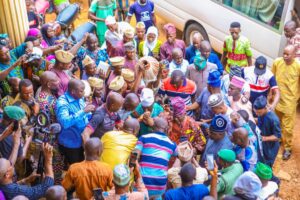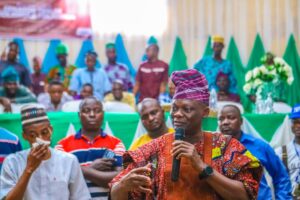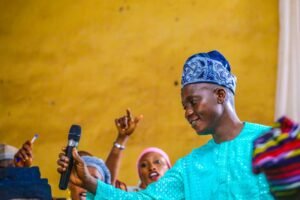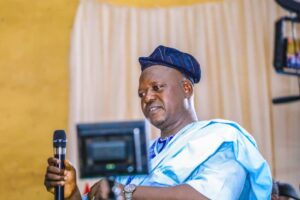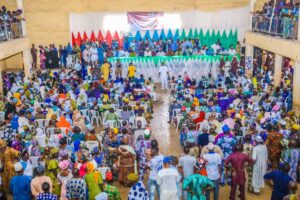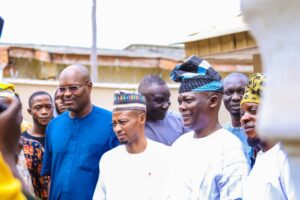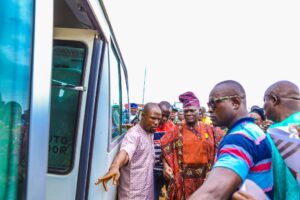 "Fellow party members, don't me misinformed and misled. I want to stress that I am happy in APC. Therefore, defecting to PDP because of future ambition is not an option whatsoever. I am not an ingrate. I am not a dishonourable man. God is my witness that APC is my house, nobody can force me out".
The three-term lawmaker while urging gladiators to be conscious of utterances and actions capable of polarising the progressive family in Oyo State, preached peace and harmony before, during and after the party congresses.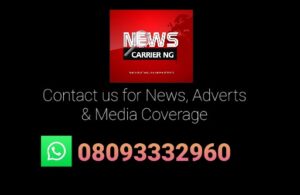 He emphasised that the mission of the Oyo APC is to reclaim Agodi Gate House in 2023, therefore unnecessary and avoidable intra-party crises must be avoided in the spirit of Oneness and Progress.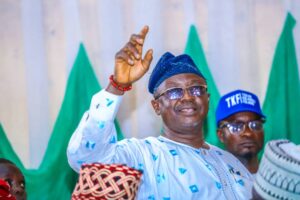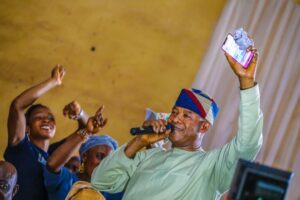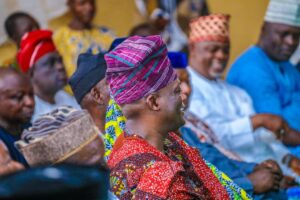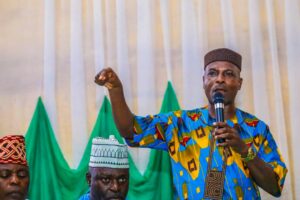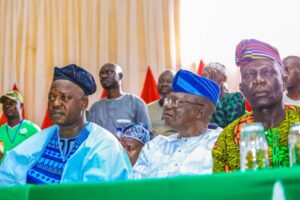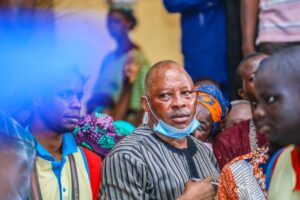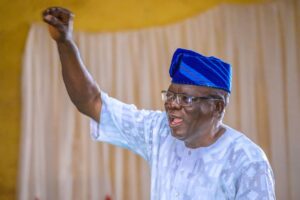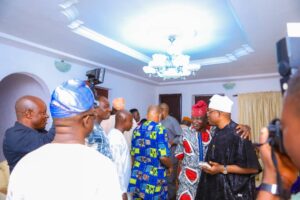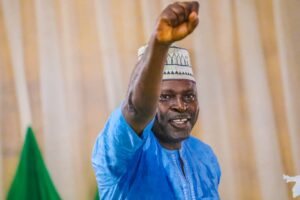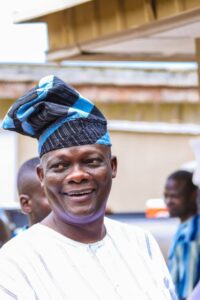 "We must learn from our mistakes that led to the loss to undeserving PDP. God Giveth and Taketh Power, all aspirants must see and treat ourselves as blood brothers. Maligning one another because of individual's ambition will be counterproductive. I'm on tour to preach peace and harmony in the progressive family" he stressed.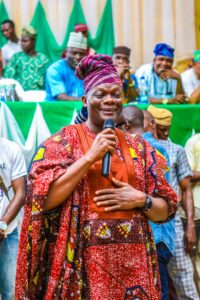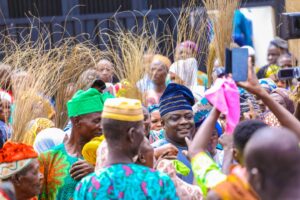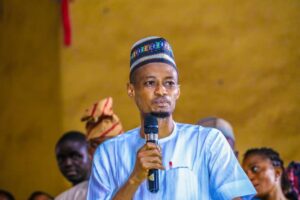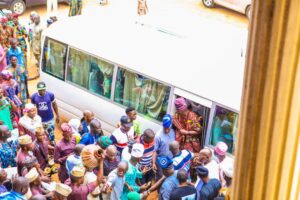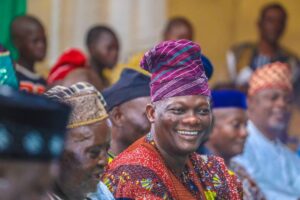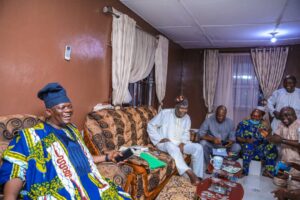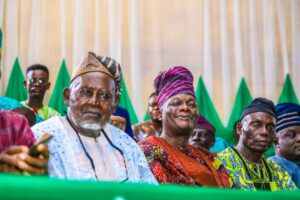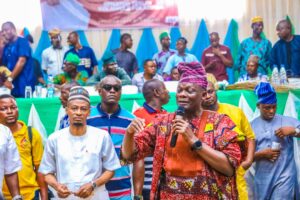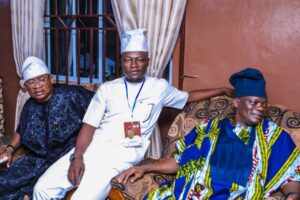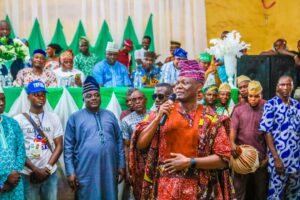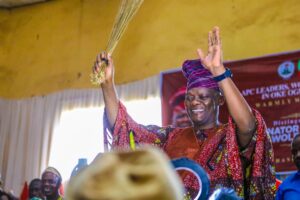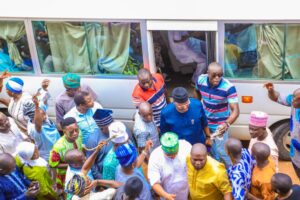 On the entourage of the Chairman Senate Committee on Local Content were Alhaji Mufutau Adisa Gbayawu, Alhaji M.K.O Olaoye, Alhaji Kamorudeen Ajisafe, Alhaji Razak Lawal 
Akilapa, Alhaji Audu Marafa, Alhaji Waheed Akinleye, Chief Lowo Obisesan, Chief Adegboyega Adegoke, Alhaji Shina Alabi, Alhaji Kayode Adanla, Hon. Akeem Olatunji Akogun, former OYSHA Chief Whip Rt. Hon. Hammed Adigun Murphy; former OYSHA member, Hon. Akin Ali; former OYSHA member, Hon. D.A Lawal; former OYSHA member, Hon. Adegoke; former OYSHA member, Rt. Hon. Segun Ajanaku; former OYSHA member, Hon. AbdulFatai Salaam; Alhaji Yinka Folarin, Alhaji Remi Adeleke, Hon. Biliaminu Ogundele, Barr. Biodun Akaje, Hon. Kola Amoo, Hon. Akeem Ila, Mogaji Afolabi Adesina, Hon. Kabiru Alarape K.K among other notable party stakeholders.
Other key leaders from Iseyin LGA present were former executive vice chairmen, Alhaji Adeniyi Ishaq and Hon. Kayode Ojo; APC Elders led by Alhaji Ade Love, Prince Oyedepo, all former councillors; former and present political appointees.
In attendance from Itesiwaju included former executive vice chairman, Hon. Kayode Okeamu, Alhaji Rasaq Bello Ademola, former council secretary, Hon. Taofeeq Ibrahim Barrywhite; local youth leader, Hon. Tunde, Leader Shola Oguntona, Hon. Idowu Adeniji as well as local and ward executives.